Christmas Party Outfits for Ladies of All Ages
The most wonderful time of year is right around the corner and with it begins the start of Christmas party season. With a plethora of events and activities to look forward to, we're here to help you pick out the perfect outfit to suit each occasion. Whether you feel most confident in smart trousers or a stunning festive dress, we've got an array of glamorous ladies' outfit options to choose from to help make finding something fabulous to wear easy. 
From turning heads at your work Christmas party to going all out on the big day itself, keep reading for inspiration on how to look the part this party season.
What to wear to a Christmas party?
When it comes to choosing what to wear to a Christmas party there are a few things you should consider that will help you in your decision making. Picking the perfect outfit that not only aligns with the festive season but makes you feel confident and matches the tone of the event is key. 
The first thing to keep in mind is the level of formality of the party. If you're off to a fancy work Christmas party with colleagues, a more formal outfit will be expected or, on the opposite end of the scale, if you're hosting a cosy Christmas party at home for loved ones, a pair of smart trousers and a festive blouse will be more fitting. 
Secondly, you should consider what kind of outfit will make you feel most confident and comfortable. There is no worse feeling than wearing an outfit that makes you feel uncomfortable or self-conscious. Therefore, picking outfits that fit you well, flatter your shape and make you feel like the best version of yourself is key to looking great at any party you attend.
And finally, think about what outfit will make you feel your best when walking into the room. Opting for a patterned outfit with varying textures or a unique silhouette will stand out and show off the vibrant side of your personality. A classic little black dress or red velvet top will show off the classic side of your style, allowing you to stay on theme with the festive season but in a simple and sophisticated way that you can have fun with and elevate with accessories.
What Christmas party outfits look best for over 50s?
There are no rules when it comes to finding a fabulous outfit to wear to a party if you're over 50. The most important thing is that you choose the clothing pieces that make you feel your best. Our advice is to find the best silhouettes that flatter your figure and use that as the starting point for finding a unique, stylish party outfit. By opting for a familiar fit that you know works well for you, you can make choosing the ideal ensemble simpler. 
Some key pieces to get you started on building your Christmas party wardrobe are a knee-length dress, a midi skirt and a pair of straight-leg trousers. Once you find these key pieces in a colour or pattern that suits your style, you can start adding blouses, jackets, heels and accessories to complete your look.
What colour outfit is best for Christmas?
When you think of Christmas your mind automatically goes to the flashes of red and green, however, adding these colours to your festive wardrobe is only the beginning. There are a myriad of Christmas outfit colour combinations that can help you create a stunning festive look that strays from the typical red and green combinations. Incorporating jewel tones and metallics such as maroon, emerald green, deep purple, gold and silver can help you create a chic, regal outfit that encompasses the magical feeling of the season.
Despite what you may think, you don't always have to go all-out with your Christmas party outfit colours, there are ways to don a festive look without appearing too garish. A burgundy velvet dress or sequined purple top is an understated way to add a touch of festivity to your style without going over the top. 
Below we have selected a few of our top picks for fashionable festive outfits for ladies over 50 that are perfect for your next Christmas event.
Ladies' Christmas Party Tops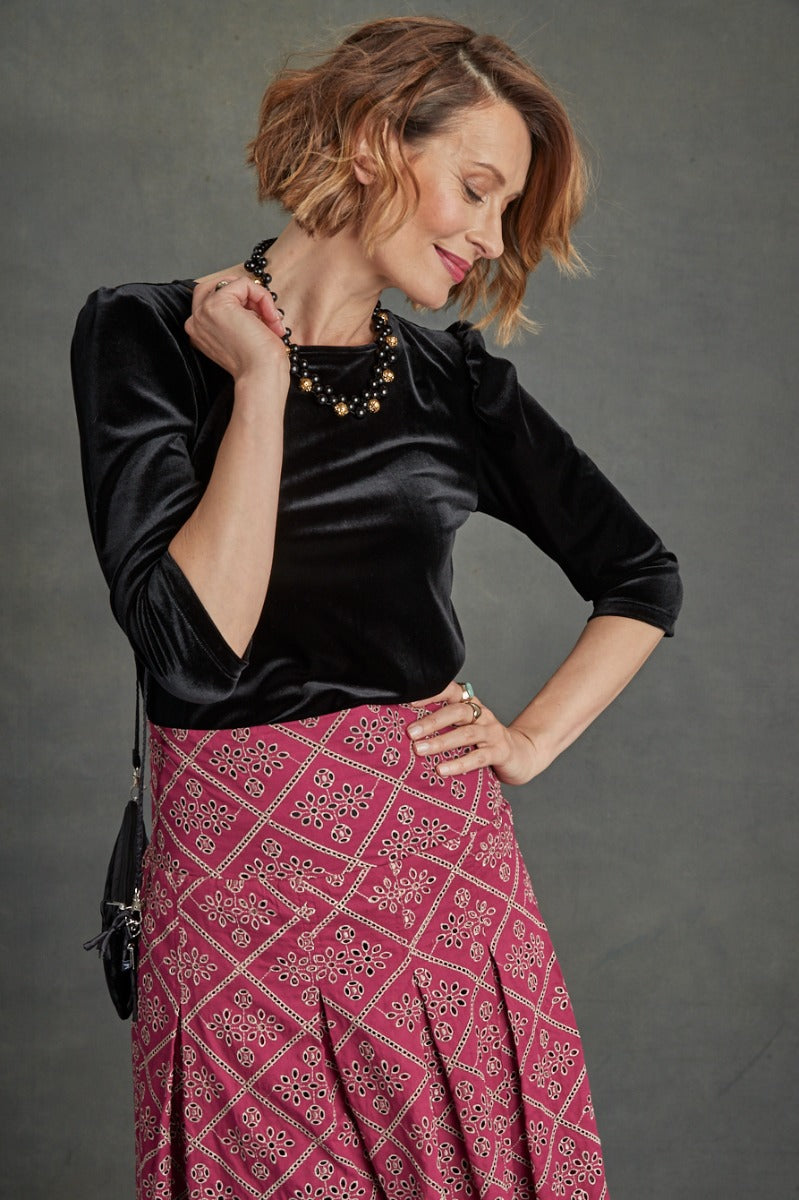 Velour is one of the most popular choices of fabric during the autumn and winter seasons as it is not only sophisticated but also keeps you warm. This simple black velour Adrienne top is a great way to create an understated festive outfit. Featuring a flattering rounded neckline and gently puffed, ¾ sleeves this top is perfect for ladies of all shapes and sizes. Whether you keep it simple and pair this top with a matching black velour skirt or jazz it up with a patterned skirt and statement jewellery, adding this style of top to your winter wardrobe will ensure you always have an outfit to hand for your next Christmas party.
If you prefer something more sparkly, then an embellished top in a festive colour is perfect for making a statement at your next Christmas event. This rich purple, sequined Miley top is the perfect piece to invest in for creating a magical winter outfit. Featuring a beautifully embellished beaded, sequin pattern, a flattering v-neck shape and expertly cut scallop-edged sleeves, this top is designed to skim your body and create a flattering silhouette. Pair with a pair of classic trousers or a black maxi skirt to keep this top the centre of attention.
Ladies' Christmas Party Trousers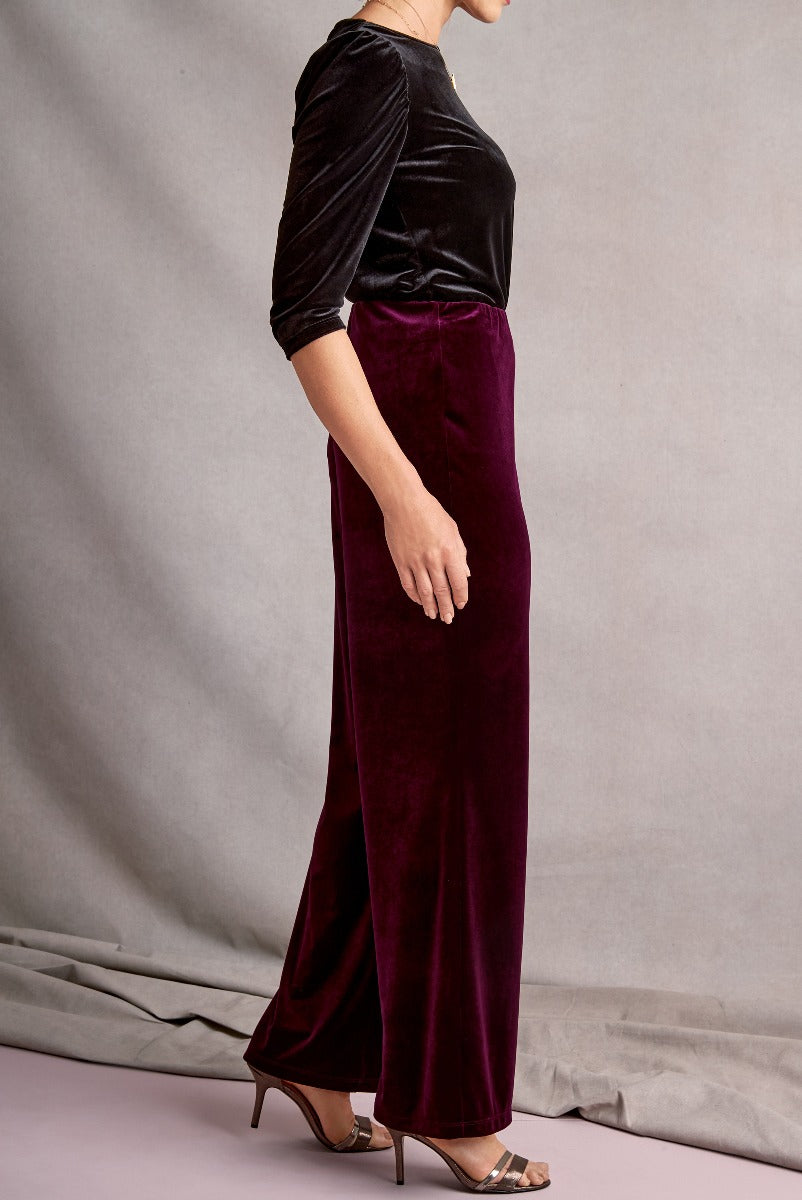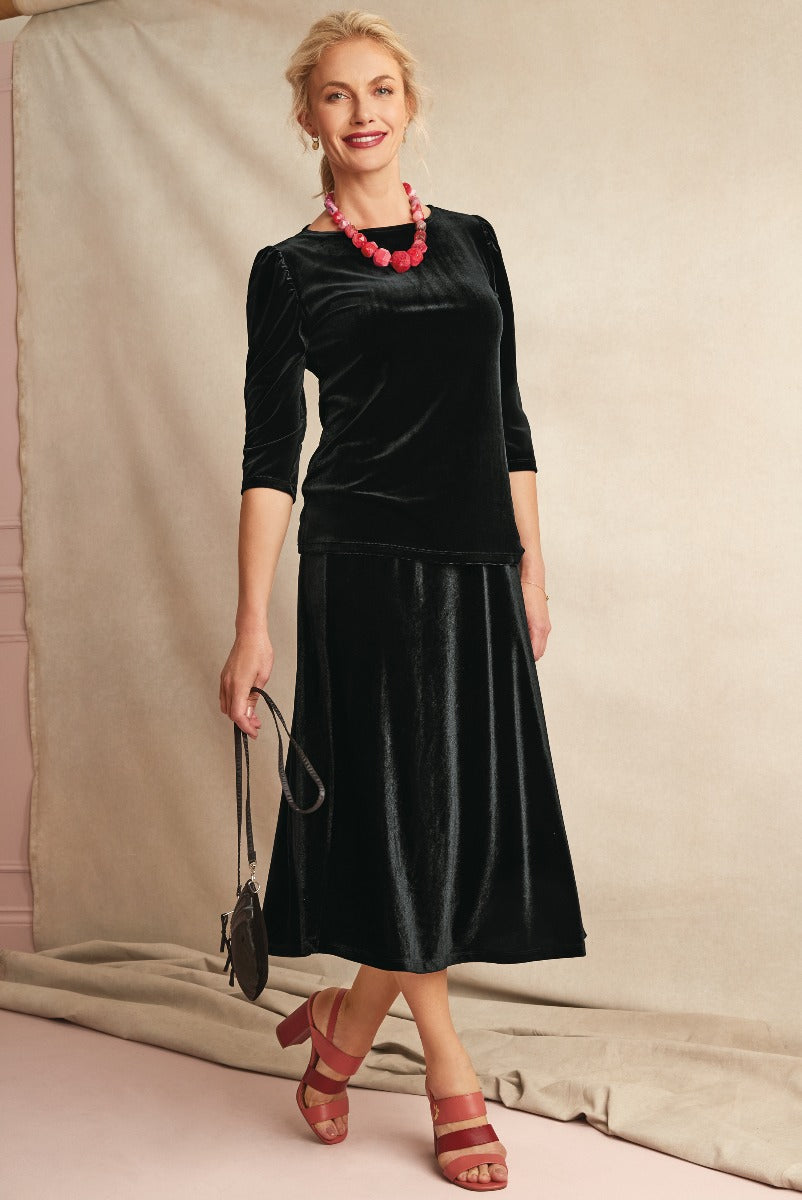 Velvet trousers are another festive wardrobe staple that offers a sophisticated and versatile option for a Christmas party outfit. The Arleen trousers boast the signature colour of the festive season, a chic burgundy hue on a pair of velour, flowy wide-leg trousers. Featuring a hidden elasticated waistband, these trousers are perfect for making you look fabulous whilst ensuring comfort all day long. Create a coordinated ensemble by pairing these velvet trousers with the velour Adrienne top or pair with an embellished, sequin top for a unique, contrasting look.
A midi skirt or maxi skirt is another must-have addition to your party wardrobe. The mid-calf or full-length skirt is not only sophisticated but is a timeless and versatile clothing option to have on hand for a variety of occasions, including the festive party season. Whether you opt for a patterned full-length skirt or a velour midi like this Adrienne skirt, you're guaranteed to look fabulous at your next party. This skirt in particular offers a beautiful draped style in a sumptuous velour fabric that catches the light as you walk into any room. With a pull-on, elasticated waistband and A-line shape, this midi skirt is sure to keep you feeling comfortable and confident at any event.
Ladies' Christmas Party Dresses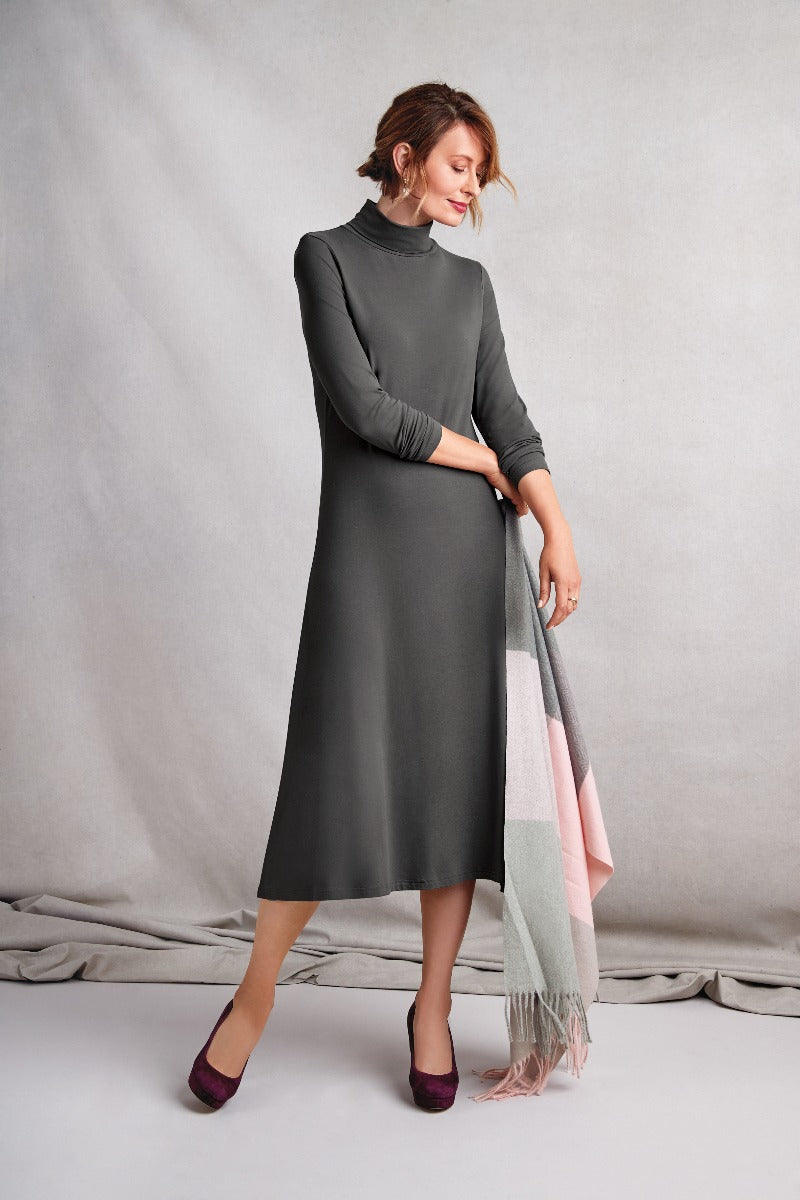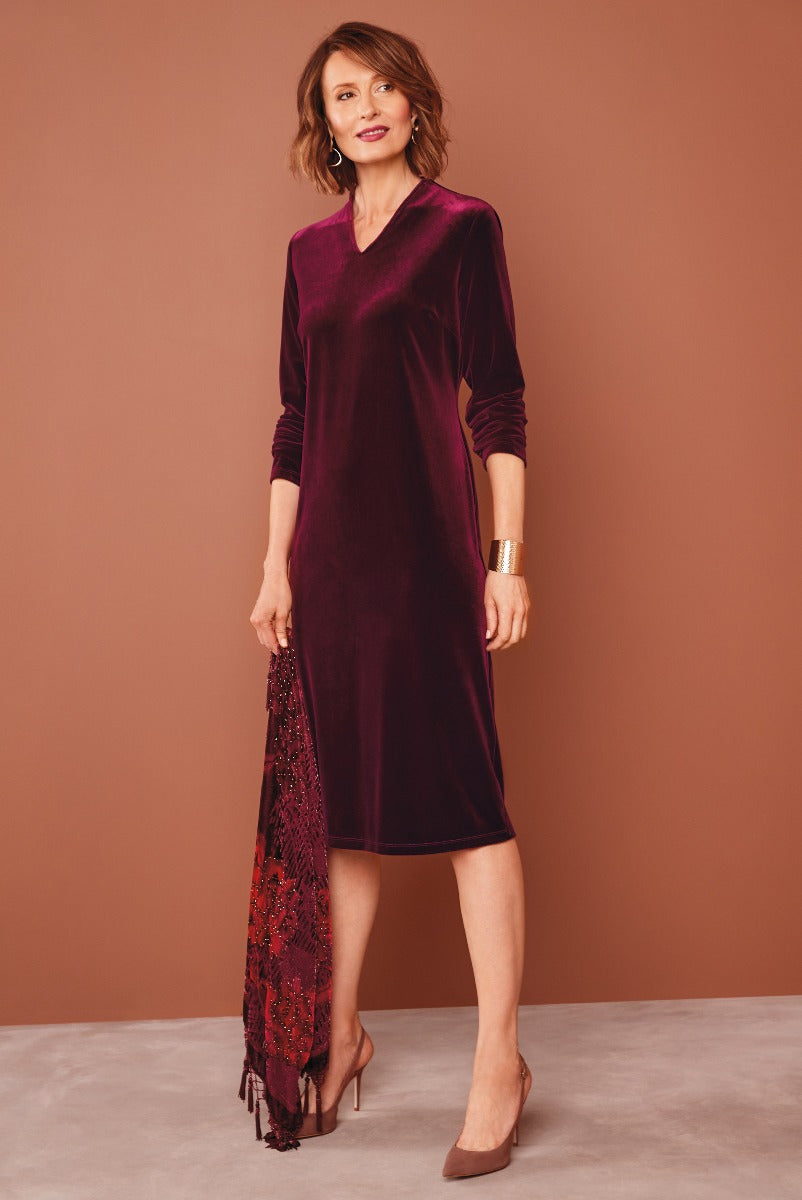 A dress is arguably the most popular outfit choice for any party. Whether you like to flaunt your figure in a fitted style or prefer a more relaxed flowy dress, the key to picking the perfect Christmas party dress is to go with a colour and silhouette that suits you the most. One of our top picks for a simple yet festive ladies' dress is a high-neck, long-sleeve dress like this Keswick dress. Featuring a rolled top neckline, long sleeves and a loose fit, this dress is a great option for those who prefer a full-coverage look that keeps you both modest and warm. Boasting a neutral slate-grey colour in a stretch jersey material this full-length frock can be dressed up or down with a colourful patterned scarf, statement jewellery or a fun blazer so you can create multiple looks to suit any party dress code.
Polished, smart and easy to wear, a velour dress encapsulates the Christmas vibe effortlessly. The Arleen dress in particular offers a smooth, luxurious velour fabric in a v-neck, semi-fit cut that hits just below the knee and skims your body shape to create a flattering silhouette. Boasting a festive burgundy hue that looks stunning on all, this dress would go perfectly with gold accessories and a patterned scarf for an effortlessly stylish party look.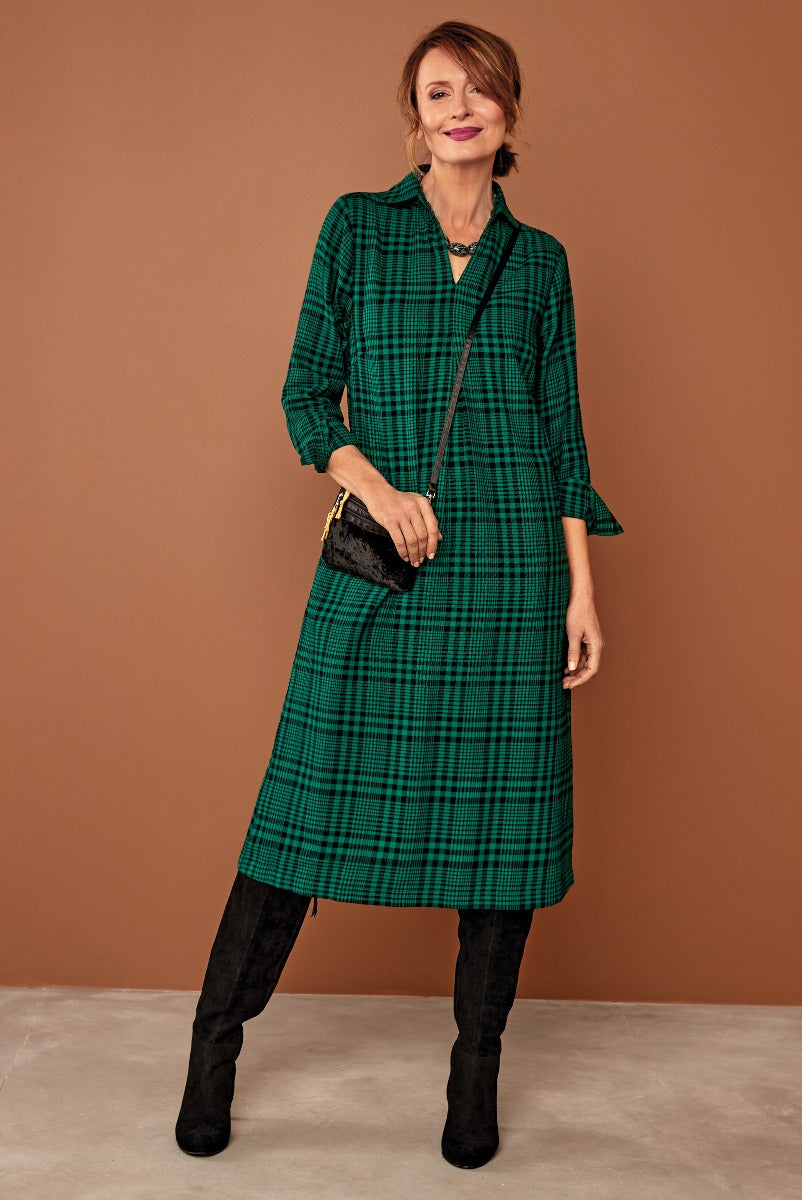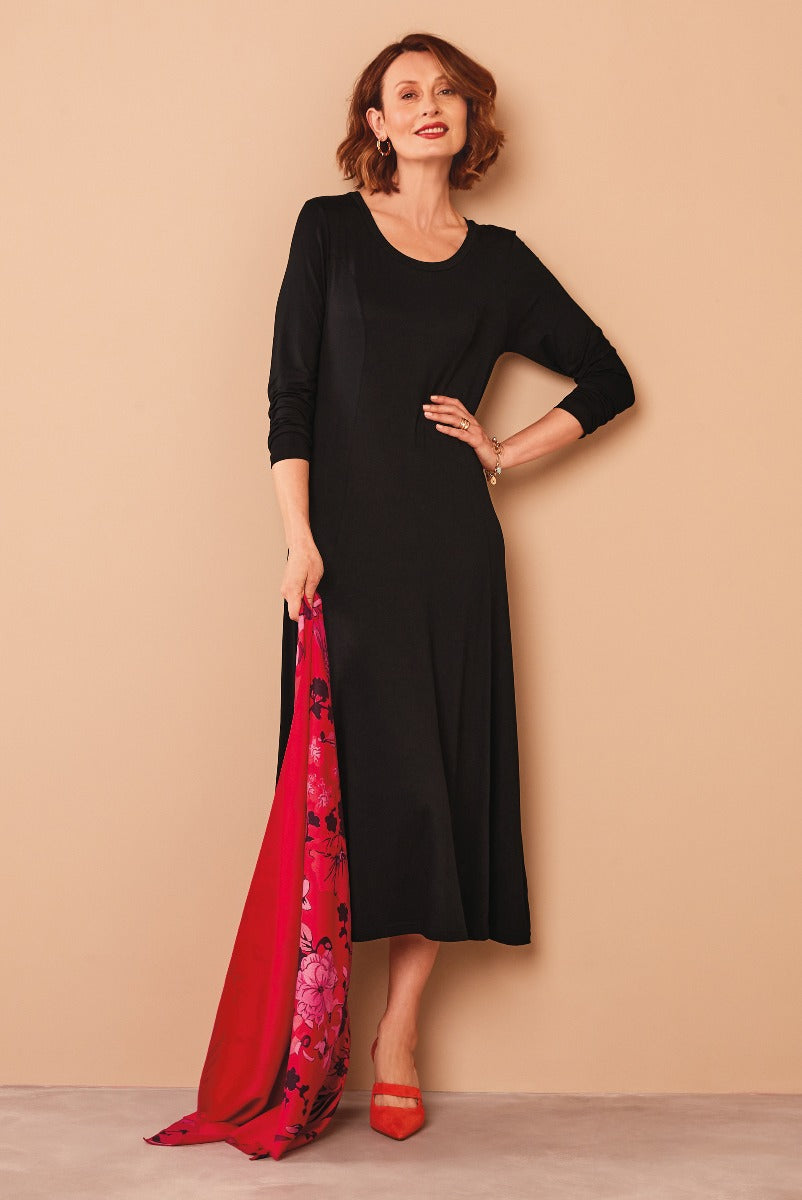 For those who love a patterned outfit, what better way to embody the Christmas spirit than with a tartan printed dress? Enter the party in style with this relaxed smock-inspired Venus dress in an emerald green and black tartan print. Perfect for the winter season, this dress is made from 100% cotton that keeps you warm whilst the shirt-style Peter Pan collar and cuffs give the dress a sophisticated shape. This dress can be styled up with heels and jewellery for a formal Christmas party look or dressed down with tights and boots for a more casual style. With concealed side seam pockets and a loose-fitting style, this dress is ideal for those who favour comfort but also want to look fashionable whilst dancing the night away.
Finally, no party-ready wardrobe would be complete without a little black dress. A black dress is an essential in every woman's wardrobe, for casual and formal occasions of all varieties, this style of dress is the most versatile and timeless clothing piece you can own. This Raven dress features a modest long-sleeve, scoop neck and mid-calf design that allows for the draped material to give a fabulous swirl effect when walking. Made from a soft viscose material that offers a touch of stretch, this dress is one of our most flattering designs and can be styled in a variety of ways to create a personalised look for your next Christmas event. Add a patterned scarf and boots for a smart-casual look or pair with your favourite heels and best jewellery pieces for a classic, chic outfit that can be worn time and time again.
Get ready for the festive season with Lily Ella
If you're looking for more party outfit inspiration to take you from Christmas into the New Year, head over to our full collection of bespoke ladies'
clothing
and
accessories
, designed to keep you looking fashionable for all occasions no matter your age.
---